Image
The Best Pest Control Services In Arden
Pest Control in Arden
Owning a home is great, except when it comes to keeping pests out of it. If you're looking for an easy and effective way to protect your home, look no further than Gibson Pest Control. We offer pest control in Arden that's tailored to your home's unique needs to give you guaranteed results. It doesn't get easier than that!
Our local exterminators will protect your home from:
Ants

Spiders

Centipedes

Millipedes

Roaches

Silverfish

Stinging insects

Fleas

Ticks

And more!
Image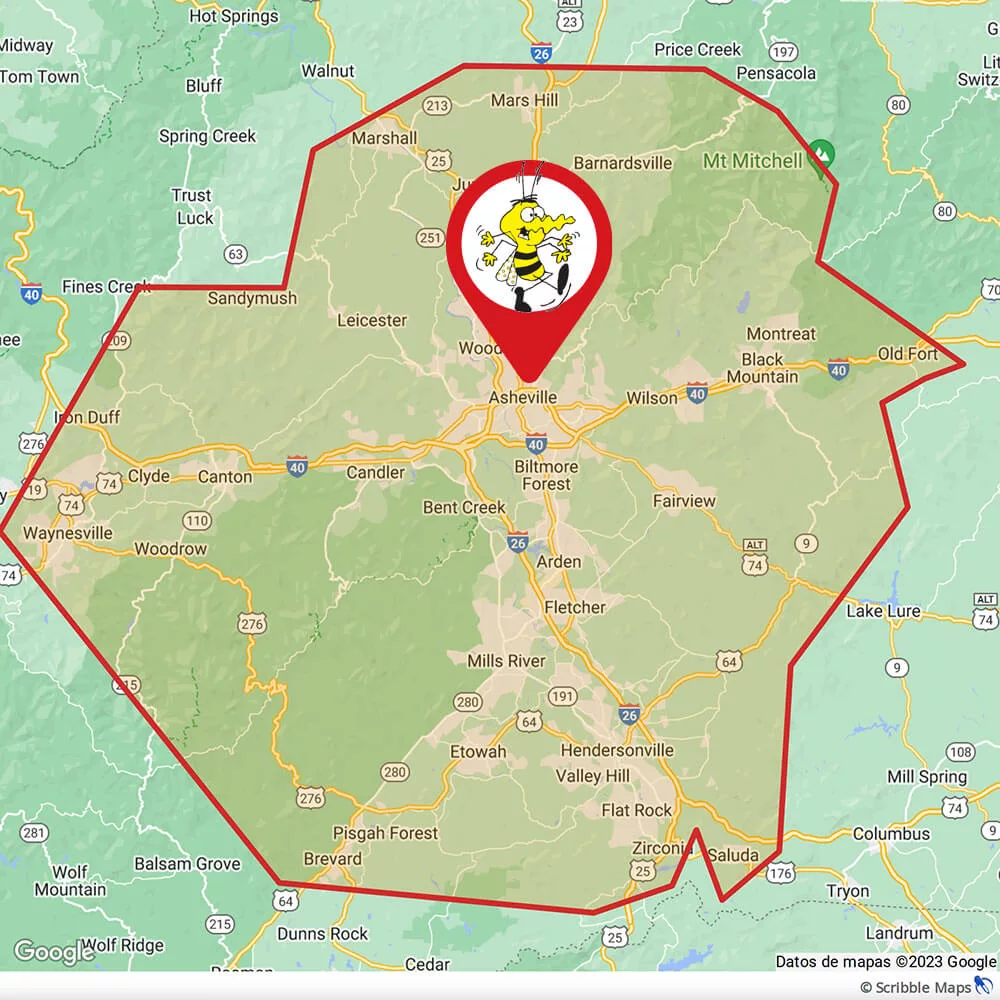 Year-Round Pest Protection
Pests are always looking for a way into your home, no matter what time of year it is—and our humid summers and mild winters only make it easier for insects to thrive. With our pest control in Arden, you don't have to worry about it! Our recurring treatments are the best defense against pest infestations. We offer free inspections to get you started and look for any areas of concern, then our Asheville exterminators use their decades of experience to create a custom treatment plan just for you.
Our pest control services include:
Personalized treatments based on the needs of your home and family.

Reactive measures to safely eliminate existing pests.

Preventative treatments around entry points like downspouts and windows.

Removal of spiderwebs and empty wasp nests to refresh your home's exterior.

Recurring treatments throughout the year to keep you pest-free.
Termite Control in Arden
Termite infestations aren't easy to detect. These pests are small, hide in mud tubes or underground, and move quietly. By the time you realize there's a problem, they've likely caused hundreds or thousands of dollars of structural damage to your home. While that sounds scary, it's easy to protect both your home and wallet with our termite treatment in Arden. Whether you have an active infestation or want to stop one from happening, we have the solution for you.
When you partner with us for termite control, we will:
Carefully inspect your home for signs of termite damage.

Tailor treatment based on our findings and the severity of the infestation.

Eliminate termites using Termidor liquid treatments and Trelona bait stations.

Protect your home from future infestations.

Give you the option of an annual renewable warranty.
Mosquito Control in Arden
You know mosquitoes for their itchy bites, but they can actually be dangerous to you and your loved ones. These pests transmit diseases like West Nile virus, Zika, and malaria. If you're looking for a way to add another layer of protection to your property, you're in the right place! Our Asheville mosquito technicians offer the best mosquito control in Arden that targets pests at their source, giving you noticeable results. 
Our mosquito control includes:
A thorough search of your yard to look for mosquito breeding areas.

In2Care stations that target adult mosquitoes and larvae.

Full-yard misting treatments to create a protective bubble.

Regular visits from April through November.

Our satisfaction guarantee, so you can live mosquito-free.
Rodent Control in Arden
We know how stressful it is to discover rats and mice in your home, which is why we provide hassle-free rodent control in Arden. Our rodent exterminators in Asheville are highly trained, use products that are safe for your family, and don't stop until the problem is solved. We even treat for hard-to-reach infestations, like ones inside wall voids, under appliances, or in the attic. All you have to do is sit back and let our experts do all the hard work!
When you trust our rodent control services, we will:
Complete an inspection to look for nesting sites, entry points, and other problem areas.

Strategically install tamper-proof bait stations outside the perimeter of your home.

Place glue traps in the crawl space or basement, keeping them out of reach from kids.

Seal off entry points to stop future infestations from sneaking inside.

Back our services with a satisfaction guarantee for your peace of mind.
Bed Bug Control in Arden
If you have a bed bug problem, there's no need to panic! It's easy to accidentally bring these hitchhikers inside on your clothes, in your luggage, and on secondhand pieces of furniture. Instead of throwing everything out at the first sign of an infestation, trust our bed bug treatments in Arden. It's safe, easy, and guaranteed to work. We'll create a custom treatment plan just for your home and walk you through the entire process, so you know exactly what to expect.
Our bed bug control includes:
An inspection to determine what rooms are affected.

A checklist that tells you how to prep your home before our visit.

Liquid and fog treatments to ensure we target all the bed bugs, even the ones hiding.

Crack and crevice treatments to get in the seams of furniture.

At least one 14-day follow-up to ensure you're bed bug-free.
Ant Control in Arden
Are you frustrated by ants invading your home? Look no further than our specialized ant control services in Arden. Our expertise lies in eliminating those pesky household ants, providing you with a pest-free home. Here's why you should choose Gibson Pest Control:
Tailored Approaches: Our team recognizes the uniqueness of each ant infestation. That's why we begin with a comprehensive assessment to identify the specific ant species causing trouble. This empowers us to personalize our strategies for effective eradication.
Cutting-Edge Baiting Methods: Equipped with the latest tools and industry techniques, including advanced ant baits, we entice and eliminate ants at their source. Our baits are meticulously designed to attract and exterminate ants, ensuring long-lasting outcomes.
Complete Ant Control: Our comprehensive ant control services encompass a variety of ants commonly encountered in Arden. Whether you're battling odorous house ants or aggressive fire ants, our skilled technicians possess the expertise to tackle them all.
Ongoing Treatments: We firmly believe in providing lasting relief. Our recurring treatment plans guarantee an ant-free property over the long term. Say goodbye to incessant ant invasions and enjoy a home that's free from pests.
Regain control over your home and put an end to ant infestations. Place your trust in our locally-owned ant control company for the effective elimination of these unwanted pests. Contact us today for a complimentary estimate and experience firsthand the transformative impact of our expertise.
Guaranteed Pest Protection
As a local, family-owned business, our customers mean everything to us. We're always willing to go above and beyond for everyone we help. That includes offering our Gibson guarantee! If pests come back, all you have to do is let us know and we'll re-treat at no additional cost. You can always trust our pest control in Arden to get the job done right.